Ymarinas, the ultimate APP to book your berth at the next port of destination worldwide
Discover the interactive app features
01

Powered by IBM App ID
Already have an account?
Please, register your profile as a shipowner.
02

Motor boat, sailing boat, catamaran?
Enter your vessel details to find the right berth for you.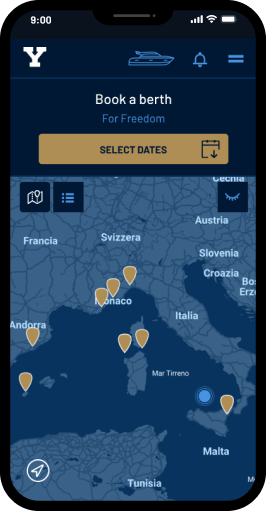 EXPLORE YMARINAS
MOBILE VERSION
This version of the app YMarinas contains only the essential features to showcase its value and functionalities.
COME ON BOARD
Create your profile and be the first to check out the primary features of the ultimate APP for the maritime world!
You will be notified of any updates implemented on our App
List your Port
Are you a Port Director or Manager? Become a Ymarinas partner port.
Ymarinas gives ports the opportunity to execute a proper digitization while increasing bookings and simplifying communication with clients. The App is designed for port owners to promote and digitalize the harbors, while improving managment of the berths.
Take your harbour to the next level!
Ymarinas offers ports to get the visibility of different audience of potential customers.
Propose and offers your services to targeted profiles.
The vision of Ymarinas
Ymarinas allows shipowners to have total control over the management of their yachts while giving visibility to ports that become digitalized.
The digitization of touristic ports simplifies the procedures between shipowners or their captains and the marinas.
Shipwners, Captains,
Charter Companies
Ymarinas allows to search for harbors all over
the world, book and purchase services and
products by the marina.
Port owners
and managers
YMarinas is designed for port owners and
managers to promote and digitalize
berths, while managing them.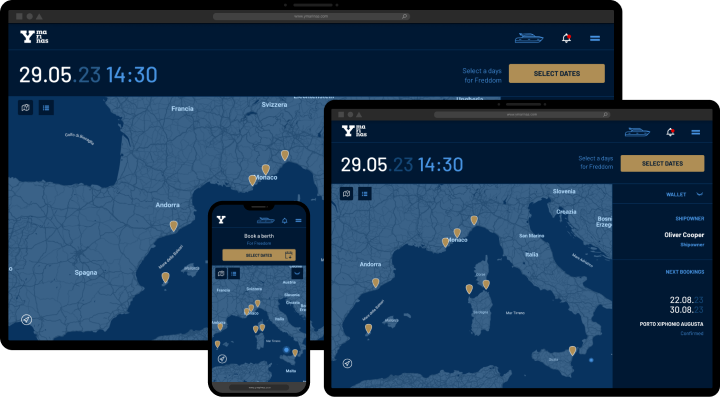 The ongoing digital transformation occurring in the yachting industry needs to be up-to-date due to the new consumers behavior. Having a database service will encourage customers to always approach ports where they are more likely to find digital services.